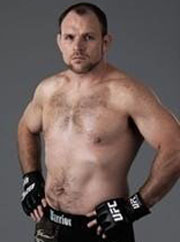 Michael Patt – MMA/BJJ/Submission Grappling/Kickboxing

Michael is the head instructor/owner of Dayton MMA Academy. Michael is a 2nd degree Brazilian Jiu-Jitsu Black Belt, holds the rank of Kru (Instructor) in Muay Thai Kickboxing under Arjan Surachai "Chai" Sirisuteis. He has competed in international Brazilian Jiu-Jitsu competitions and is a multiple time champion and place winner at various regional/national Brazilian Jiu-Jitsu competitions (Gracie Worlds-Arnold Classic, Relson Gracie Nationals, NAGA, Pan-Am's). He is a 2000 Pan-Am Brazilian Jiu-Jitsu Bronze Medalist and a 2x amateur kickboxing champion of the Bando National Kickboxing Tournament.
Michael has an extensive mixed martial arts career with a 15-4 record. He is an Ultimate Fighting Championship Veteran (UFC). He has competed nationally and internationally against U.S., Japanese, Russian and Canadian opponents. Michael has also appeared in live pay-per-view fight shows (UFC, BODOGfight) as well as the T.V. fight series for BODOGfight.
UFC Veteran
Certified Muay Thai Boxing Instructor – Chai Sirisute
2nd Degree Black Belt in Brazilian Jiu-Jitsu – Ricardo "Rey" Diogo
Certified by the International Brazilian Jiu-Jitsu Federation to promote students to black belt
Over 15 years of training professional and amateur MMA, Kickboxing, and Brazilian Jiu-Jitsu competitors
---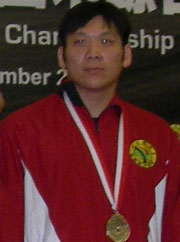 Ed Quach – Kickboxing/MMA

Muay Thai kickboxing instructor at Dayton MMA Academy. Ed has competed in many forms of kickboxing from Mauy Thai to San Shou. A veteran of over 20 fights and years of coaching fighters Ed brings a solid blend of competition and teaching to the Dayton MMA Academy kickboxing team.
Trained in Muay Thai and San Shou since 2003.
16-6 record (includes Muay Thai, San Shou, Lei Tai, Kickboxing, and MMA)
2004, 2010 – National Champion
2006 – Silver medalist Lei Tai World Championship
Teaching Muay Thai and San Shou since 2005.
Multiple students with MMA, Muay Thai, San Shou, Lei Tai, and Kickboxing titles.
Head teacher of "Alive and Kicking" study with University of Dayton. The study shows the benefits of kickboxing with Multiple Sclerosis patients.
---
Chris Lehman – Kids BJJ/Judo

Over 14 years training Judo, traditional Jiu-Jitsu, and Brazilian Jiu-Jitsu
Has extensive competition background which includes Judo, Jiu-Jitsu and MMA competitions
---
Alex Kredinweis – TKD

Taekwondo instructor at Dayton MMA Academy. Alex has been involved in martial arts for over 17 years and is a 2nd Degree Black Belt in Taekwondo. He is a 2007 National Kickboxing Tournament Silver Medalist. He is a multiple time place winner and champion of various TaeKwonDo and Open Karate Tournaments.
2nd TKD Degree Black Belt
Over 15 years of training TKD competitors
---